Kyrie eleison
Lord have mercy.
Oak cross,
50 cm x 35 cm, 2012.
At work on my second oak cross;
I must admit that I nearly gave up at this early stage in the work,
but, after a long pause, decided to go on.
It took about six weeks to finish. See below.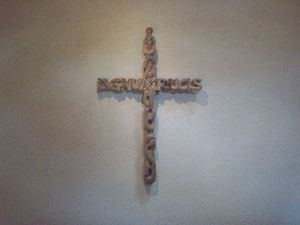 Ecce lignum crucis in quo salus mundi pependit.
Behold the wood of the cross, from which hung the Salvation of the world.
Antiphon sung during the adoration of the cross on Good Friday.
oak, 50 x 80cm, summer of 2012
The cross is entirely made of letters;
the words lignum crucis form the patibulum (horizontal member).
The letters of salus mundi form the stipes (vertical member) to be read from bottom to top.
The small letters of pependit are carved into the big letters of salus mundi
to be read downwards from the i of mundi at the top.
Ecce lignum
crucis
in quo salus
mundi
The letter i of mundi seen from the back;
the i traverses the D.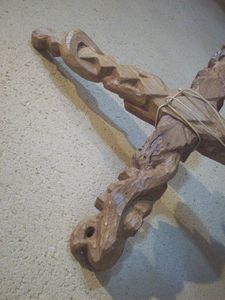 back view
pependit
video presentation of this crucifix.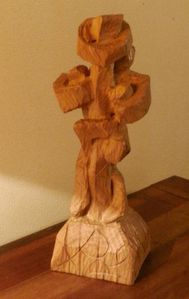 oak sculpture of the words: Sancte Ioseph,
ora pro nobis.
St Joseph, pray for us.
45cm x 15cm
back view
base
olive wood cross, 20cm x 14cm, 2014.
text: Kyrie eleison, Lord have mercy.