Noli tardare
Come, Lord, and delay not.
verse of 4th Sun of Advent
pen and ink on paper, letters cut out,
held between 2 sheets of glass.
13cm x 20cm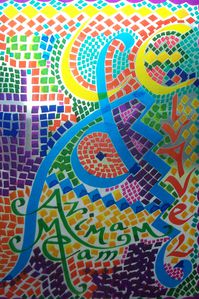 Ad Te levavi animam meam.
To you, Lord, I have lifted up my soul.
Introït of 1st Sun of Advent, Ps. 24,1
photocopy on transparent plastic
of original in pen and ink on white paper,
30cm x 21cm
Christus natus est nobis
Christ is born for us.
Invitatory of Matins of the Nativity.
carved and painted polystyrene,
85cm x 65cm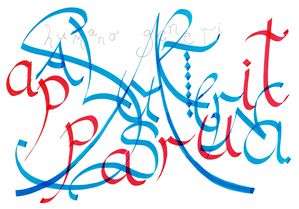 Salus aeterna apparuit humano generi.
Eternal salvation has appeared
to the human race.
matins of the Nativity
(Hodie nobis caelorum rex),
30cm x 21cm